Creative Logistics, Inc., was founded in 2002 with the goal of providing high quality, value added transportation management services to clients throughout North America.
Operating from its corporate headquarters in Boise, ID and supplemented with the services provided by independent contract agent offices in many locations throughout the United States, Creative Logistics, Inc., provides creative transportation solutions to complex transportation and distribution challenges on a daily basis.
Led by a management team with nearly fifty years of combined experience in industrial traffic management, private fleet acquisition and operation, for hire trucking and rail shipping, Creative Logistics, Inc., has the knowledge and resources to successfully tackle the most challenging supply chain problems. Specific areas of expertise include:
• Over-sized and/or heavy-weight cargo
• High volume movements on short, time-critical schedules
• Perishables and other refrigerated or frozen freight
• International and Intermodal cargo
• Construction and building material transportation
• Equipment and machinery moves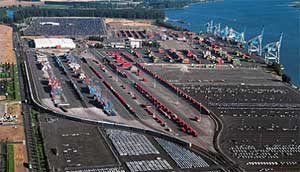 Whether the transportation challenge involves moving one load or one thousand, Creative Logistics, Inc., will provide the high quality service sensitive transportation capacity to get the job done.
Critical to this enterprise are the thousands of independent motor carriers that Creative Logistics, Inc., has under contract. Many of these carriers have been with Creative Logistics, Inc., since the company's inception.
The long term nature of these relationships points out that unlike many other intermediaries, Creative Logistics, Inc., understands what a motor carrier needs in terms of compensation, prompt problem resolution, communication and respect.
We value the business relationship we have with our independent contract carriers and have put the money and resources into maintaining it.